VMware

A10 Networks features a comprehensive range of integrations and solutions for the AX Series Application Delivery Controller (ADC) and VMware.
Key focus areas are virtual machine (VM) acceleration, integration with VM management software and mobility support by enabling connectivity to VMs throughout a global network of datacenters.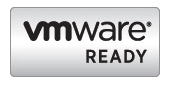 VMware vSphere virtual machines off-load compute and network intensive tasks to the AX Series Application Delivery Controller
Optimizes, load balances and accelerates the virtualized network
Fulfills functionality not native to virtualization server software
Off-loads network and application processing to the load balancer
Reduces number of virtual machines required
Reduces number of physical servers required
Faster application performance for the end user
Result: Reduce VM Sprawl and better user experience
VMware vCenter and aXAPI integrate for dynamic and elastic allocation of resources
Infrastructure reacts to network conditions dynamically
Example: automatically provision or de-provision servers based on demand
vCenter uses aXAPI to change AX load balancer policies as needed
Events are triggered by application server thresholds, e.g.

CPU utilization
Memory usage

Enables immediate responses to network conditions
Eliminates manual errors
Result: Automating tasks while scaling up or down as needed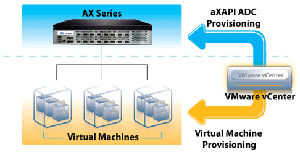 VMware VMotion can move machines between data centers. These VM changes are detected by the AX Series Global Server Load Balancing (GSLB) solution whereby traffic is then directed to the available servers
VMware VMotion moves the virtual machines between hosts in different datacenters
GSLB detects when servers are either available or unavailable
GSLB routes traffic to available servers
Result: Datacenter failover and machine mobility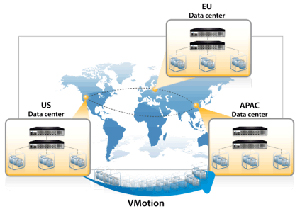 VMware View Virtual Desktop Infrastructure (VDI) advanced load balancing offered by AX Series:
A10 Networks and VMware VDI solution to reduce infrastructure cost and improve the desktop–like user experience
VDI load balancing decreases network latency, enhances network performance, and improves productivity of remote users
High Availability for VMware Connection Servers ensures unavailable servers are automatically removed from the pool
The AX Series can reduce additional VDI back-end hardware expense by offloading SSL processing from the VMware View servers
Scalability ensures user load is shared among multiple servers evenly and allows the transparent addition of additional back-end servers as needed
Enhanced security, for example DDoS protection, rate limiting protection and other security features are included at no extra cost
VMware (NYSE: VMW) delivers solutions for business infrastructure virtualization that enable IT organizations to energize businesses of all sizes.
With the AX Series working with VMware's vSphere, vCenter and VMotion a complete load balancing and application acceleration solution can improve your network, and your business
Download the Ax Series and VMware Solition Brief (PDF).