Virtualization For Cloud Computing
As Cloud Computing adoption increases, virtualization is a key enabler, driving economies of scale and the ability to scale with hardware appliances or commodity hardware.
Delivering elasticity, flexibility and scalability for changing traffic volume
Cost effective on-demand approach to reduce capital expenditure
For Public or Private Clouds
New AX Series Virtualization Products & Solutions
Based on A10's award-winning AX Series Application Delivery Controllers (ADC) and Advanced Core Operating System (ACOS™) architecture, enterprises and service providers will have the flexibility to choose the following scale-as-you-grow virtualization options.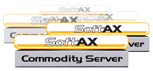 SoftAX™
SoftADC: AX virtual machine (VM) on commodity hardware
Rapidly scale with commodity hardware
Reduce hardware costs and upload to compatible cloud providers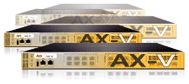 AX-V Appliance
SoftADC: AX virtual machine (VM) on AX Series hardware
SoftAX flexibility with AX hardware performance and reliability
Guaranteed performance, certifications, support and optimized hardware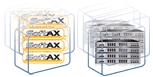 AX Virtual Chassis System (aVCS™)
Cluster multiple AX devices to operate as a unified single device
Scale multiple AX devices with shared capacity, High Availability (HA) and single IP management
Reduce cost and simplify management while adding devices as you grow
AX Virtualization
Application Delivery Partitions (ADPs) divide the AX platform resources for individual applications
Enables quality multi-tenancy with granular resource allocation
Reduce the number of appliances to host multiple applications

All new AX Series virtualization products and features are in addition to existing integration with leading third party virtualization vendors, such as VMware and associated solutions for vSphere acceleration, vCenter dynamic provisioning and VMotion with Global Server Load Balancing (GSLB). Click here to read A10's application solutions for VMware. Click here to read A10's brief on virtualization solutions to enable cost-effective Cloud Computing.
Summary and Availability
SoftAX, AX Virtual Chassis and AX Virtualization are available today. Please inquire for more details on AX-V appliance availability. For more information or to schedule a demonstration please contact us at inquire@a10networks.com.
The AX Series price/performance advantage and "Cloud Economics" are extended with the flexibility of virtualization and the enhanced multi-tenancy capabilities.