IPv6 Migration/Transition and IPv4 Preservation
Now that the IPv4 address pool is officially exhausted, enterprises and service providers are implementing products and solutions to enable a smooth transition from IPv4 to IPv6. To facilitate a smooth transition to IPv6, and ensure connectivity to the entire Internet, a highly scalable IPv4/IPv6 gateway is required. The gateway should support the various IPv4-to-IPv6 migration techniques in use today (such as CGN, DS-Lite, 6rd and NAT64/DNS64), provide Interplay between these technologies, and provide Zero Downtime to ensure uninterrupted business.
AX Series New-Generation Application Delivery Controller: High-Performance IPv4/IPv6 Gateway
A10 Networks' AX Series is the right solution for both service providers and enterprises to ensure a smooth transition to IPv6, and maintain uninterrupted connectivity to the entire Internet. The AX Series includes the most comprehensive set of IPv6 migration features of any ADC on the market: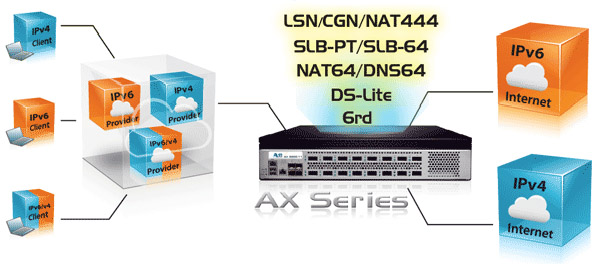 With the AX Series, customers remain interconnected, regardless of the technology used (Interplay). The AX Series is a scalable, high performance platform designed to provide access to and from the entire Internet, so an organization is available to all their customers, all the time.
Key Features
IPv4 and IPv6 Server Load Balancer (SLB) Dual-Stack Support
All IPv4 and IPv6 features can run simultaneously
SLB-PT (Protocol Translation), SLB-64, SLB-46
Dual-stack IPv4 & IPv6 SLB
IPv6<->IPv6 only SLB
IPv6 Migration and IPv4 Preservation Support
Carrier Grade NAT (CGN), Large Scale NAT (LSN), NAT444, NAT44
Dual-stack Lite (DS-Lite), 6rd, NAT64/DNS64 and Stateless NAT46
Application Level Gateways (ALGs) for FTP, TFTP, RTSP, PPTP, SIP, ICMP, DNS
IPv6 Server Load Balancing
Comprehensive support for Layer 4 (TCP/UDP), Layer 7 (HTTP/ Fast-HTTP), and SSL (HTTPS) IPv6 virtual addresses
Support for IPv6 server health checks
Performance
Very high session establishment rate
Large number of concurrent sessions, 200+ million in 1 RU
Very high NAT processing PPS & throughput
Logging
Scalable, low impact, high performance and highly configurable
Advanced features (Fixed-NAT/Zero-Logging, Port Batching, policy-based logging, compact logging, binary logging and others)
Flexibility of Deployment
Inline Mode
One-armed Mode
AX Management Through IPv6
Full native IPv6 and IPv4 management and feature support
SSH, HTTP, HTTPS, SCP, and SFTP support
IPv6 Routing
Static IPv6 route and neighbor configuration
Dynamic routing: OSPFv3, IS-IS, RIPng, BGP4+
High Availability
Active-Standby or Active-Active
IPv6 session synchronization for uninterrupted service following failover
Fully stateful redundancy (SLB, CGN/LSN, NAT64, DS-Lite and others)