Layer 7 Intelligence
The AX Series aFleX scripting tool enables advanced, highly-flexible and efficient Layer 7 traffic management. aFleX technology is based on the industry-standard TCL programming language. aFleXs do not introduce performance degradation, even when numerous features are turned on, due to AX's scalable Advanced Core Operating System (ACOS) architecture that is tuned for multi-core CPUs.
The aFleX advantage makes the AX Series an essential solution in any data center, and a key load balancer selection criterion. Some aFleX usage examples include: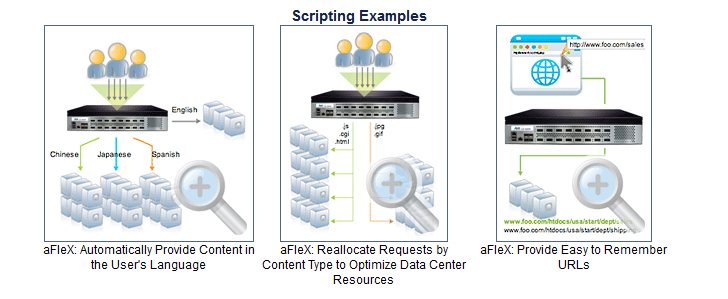 Easy to use, readable, customized policies to manipulate application Layer 7 traffic
Deep packet inspection at high speed
Eliminate traffic bottlenecks during peak and fluctuating usage conditions
Ability to offload logic from Web servers to a single point on the load balancer
Less complexity
Reduce redundant round trips/server loads
Granular load balancing traffic customization
Traffic redirection to:

Optimize servers based on content
Optimize servers based on user language

Security

Drop traffic conforming to certain characteristics
Ability to implement emergency attack protection in the time between attack identification and server security patch in a single location
Server cloaking

Data protection

Inbound or outbound
Regardless of cause, block sensitive data leakage

Ensure regularity compliance
on mis-configured applications
aFleX technology benefits make for a must-have feature in any load balancing solution.