IPv6 Rapid Deployment (6rd) for IPv6 Content Access
Using an existing IPv4 core network, IPv6 rapid deployment (6rd) is used by Service Providers to provide IPv6 content access to their end users who are already on IPv6.
Benefits:
New IPv6 end users have access to IPv6 content.
Existing IPv4 end users still have access to IPv4 content.
Allows co-existence of IPv4 and IPv6 end users in each end location.
Enables incremental IPv6 end-user support at end locations.
No core infrastructure support for IPv6 needed.
Stateless NAT – 6rd central device does not need to maintain a table with active flows. This results in less resource usage.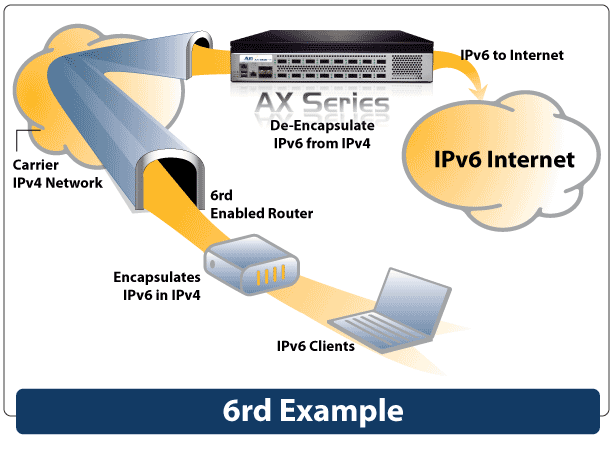 6rd Technical Walkthrough:
The IPv4 end user's traffic is simply NATed and routed to the IPv4 resources as normal.
The IPv6 end user's traffic is encapsulated into IPv4 and sent to a 6rd device, which de-encapsulates it before routing it to the IPv6 resources.
Note: 6rd does not resolve the IPv4 exhaustion issue, nor does it provide any IPv4 content access to IPv6 end users or IPv6 content access to IPv4 end users.