Advanced Server Load Balancing with Virtual Desktop Infrastructure (VDI) Solutions
Virtual Desktop Infrastructure (VDI) is a virtualization technology that enables desktop operating systems to be hosted within a centralized server. Desktop virtualization solutions simplify IT and enhance control while delivering an improved end-user experience.
The AX Series, with its Advanced Core Operating System (ACOS), is designed specifically to handle complex applications, such as VMware View and Citrix XenApp. By providing faster response during failover, SSL offloading security processing, and performing intelligent load sharing for VMware View and Citrix XenApp servers, the AX Series offers a more robust solution.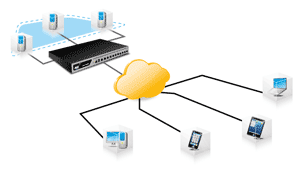 By using the AX device to load balance VDI servers, customers can achieve the following key advantages:
Minimize web site failure by ensuring High Availability (HA) for VDI web servers without impacting user access to applications
Improve site scalability by seamlessly distributing client traffic across multiple VDI web servers
Deliver higher connection counts, faster end-user responsiveness, and reduced VDI application CPU utilization by initiating SSL Offload and Connection Reuse
Provide a better end-user experience, by improving site performance and availability
To see how these benefits are achieved and complete a successful deployment, you can download our comprehensive guides for Citrix XenApp 6.5 and VMware View 5.0.